Gamified Marketing
Fgfactory builds games and gamified marketing solutions focused on brands and merchants marketing goals.

Kendall Langenstein
Director of E-Commerce,
L'Oréal
"This was one of the smoothest development projects I'd ever worked on."
Match The Ink
Web-based match 3 game built for Maybelline company to attract new customers and promote a new product.
Check the case study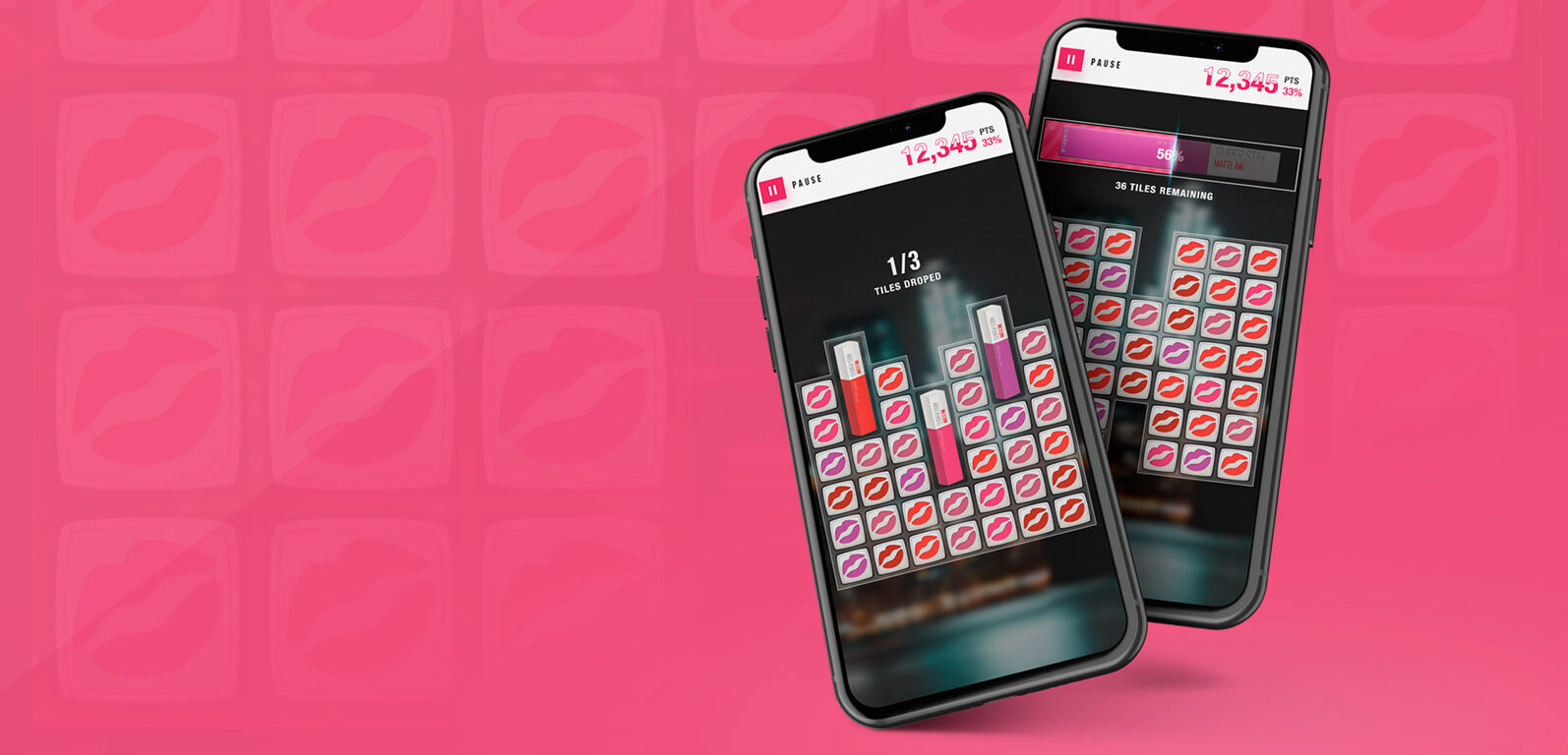 Solutions that boost sales
Fgfactory develops marketing games and gamified platforms that offer a unique and engaging way for merchants to connect with their customers. By combining gamification, sales, and marketing functionality, we create immersive gameplay and engaging features to increase customer motivation and build loyalty around the brand.
These games and platforms are developed to go beyond traditional marketing methods and offer a fun and interactive experience to connect customers with brands. By integrating various well-known and challenging game mechanics and other features like rewards, challenges, leaderboards etc. we create a sense of excitement, motivating customers to participate, compete and win.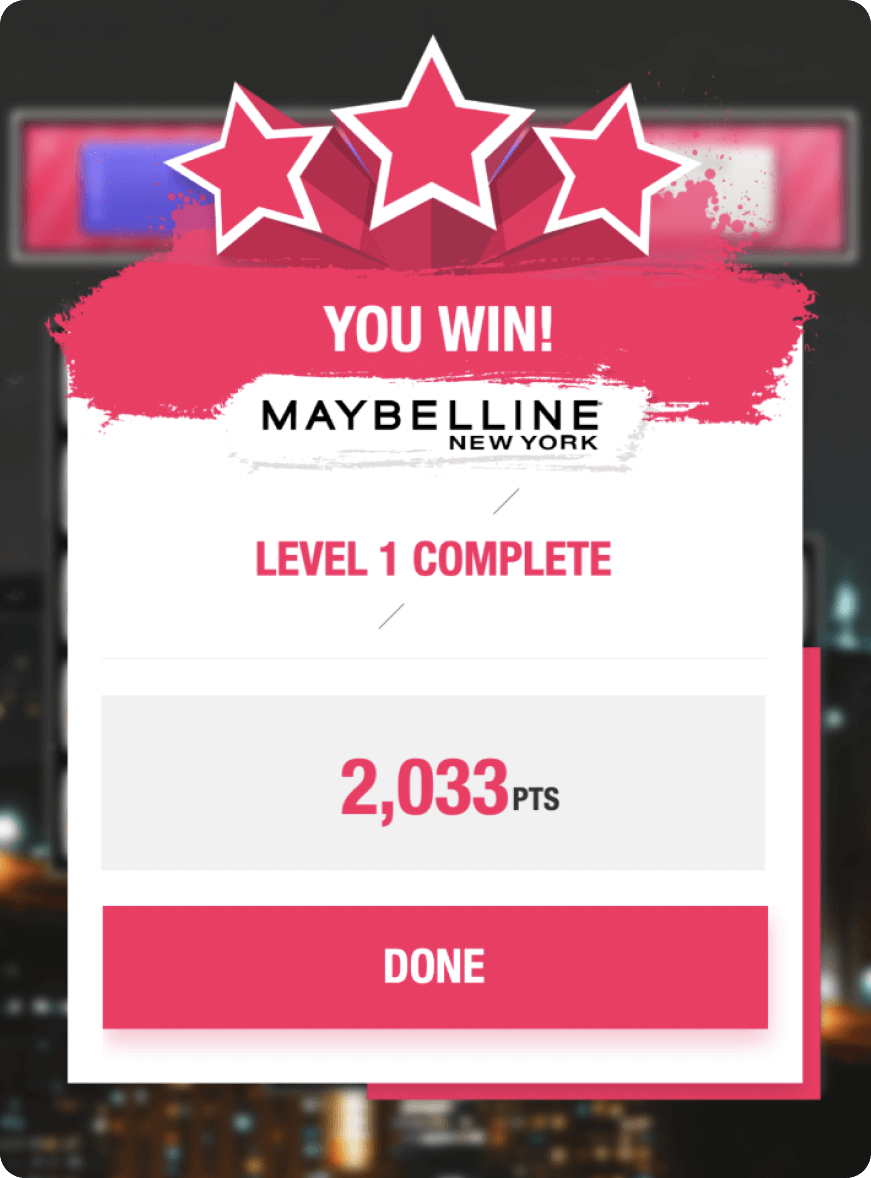 Marketing games are built to foster a positive emotional connection between the brand and his customers. Through the gameplay and the chance to win rewards, discounts or free real prizes, achieve milestones or get the access to limited products, customers feel a sense of achievement and satisfaction. This positive mood not only increase customer loyalty but also boost there willingness to continue further interaction with the brand beyond the game.
Well-designed and integrated marketing games into brands customer channels can effectively engage their experience, drive user participation, increase retention, communicate and build strong relations with existing and new customers.
Our experience in developing and integrating marketing games enables brands to offer memorable and fun experiences to their customers, build stronger connections with the target audience and positively affect on sales.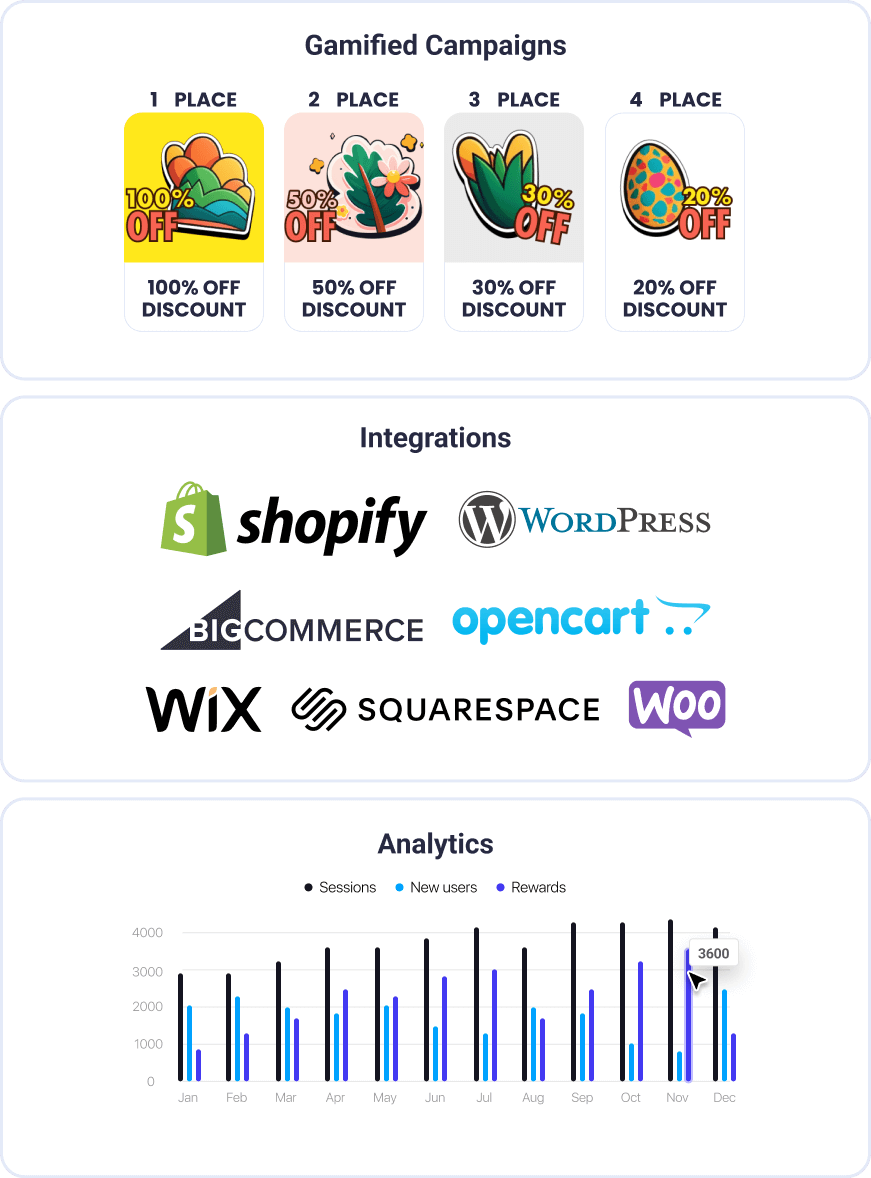 Fgfactory has extensive experience in building multicomponent marketing platforms that allow brands to connect with existing or new customers via gamified campaigns. Our solutions provide a range of tools and services to help merchants effectively promote their products and engage customers with gamified activities.
In particular, our experience includes the development of functionality for gamified campaigns creation, customization and management, customer targeting, custom analytics development to collect and manage brands' customers data, integrations with various e-commerce engines including Shopify, BigCommerce, Opencart, Squarespace, WIX, WooCommerce, Wordpress and Joomla.
Key Goals of Gamification
Engagement
Increase Customer Engagement
Gamification is one more way of marketing that allows merchants to interact with their customers differently. By using such mechanics like challenges, rewards, leaderboards etc. brands can capture the attention of their target audience and keep them actively involved providing enjoyable experiences.
Customer Behavior
Change Customer Behavior and Mood
Gamification tools affect customer behavior and lead to specific actions. Brands integrate various gamified motivators, such as competition, achievement, and rewards, in order for users to complete the necessary actions, whether it's a subscription to a newsletter, social sharing, and making a purchase.
Personal Data
Data collection and personalization
Gamified marketing provides opportunities for data collection. Tools are configured in such a way that users share their personal information in exchange for an advantage over other players, additional attempts or the opportunity to get a better reward. This allows to offer users more personalized experiences for even more engagement.

Let's build something amazing together.
Think we might be the right friends for your next adventure? Take a minute, we'd love to hear about your request.
CONTACT US