Looking to hire developers overseas without risking project success? There's no a one-size-fits-all solution for team extension of any type, but hope the tips provided here will help you shape your outsourcing approach. We provide a brief overview and share some hints on what to keep in mind while choosing the option that would fit your business goals best.  Before talking about the tips, let's figure out what a dedicated team is.
The dedicated team means a team of experts with competence level you need, to work on your project on a full-time basis or part-time within an agreed involvement level. If you do not have an in-house team or if you need a team that would deal with an independent scope of work, then you need to hire the full set of specialists with the competencies you lack. A great idea is to communicate with the supplier and ask for advice regarding potential team composition, skill set and competencies as well as best-fit ramp-up plan.
Outsourcing teams will usually have everything they need. For most situations, it's better to use a good, reputable outsourcing studio than to staff up. A good studio can help you roll on or off specific skills as you need them such as automated QA, pixel-perfect UI, network operations, art, setting up a proper DB structure for a serverless back end.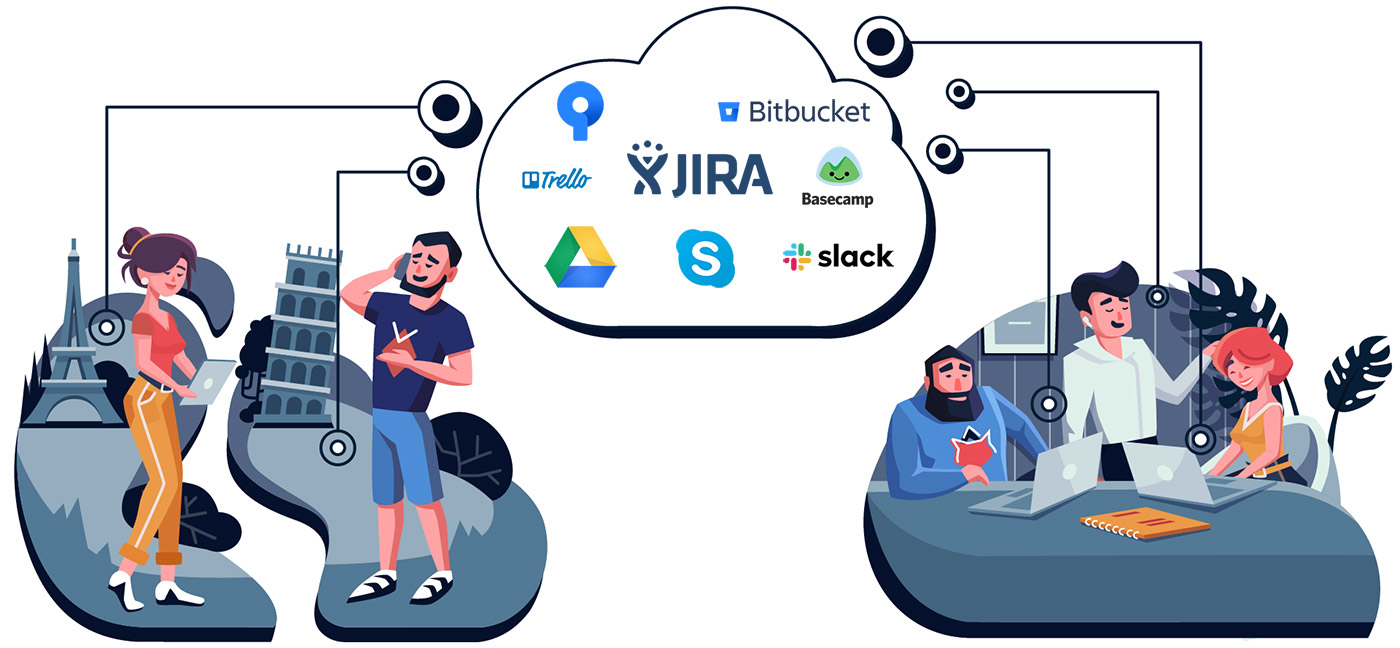 The co-operation provided by Ukrainian developers are highly valued around the world. Ukraine is a country offering perfect resources for outsourcing. The key benefits you can get here while cooperating with developers include lower rates, high professionalism, convenient location. Stop thinking about people overseas as being outsourced. Bring then into the fold of the team. They'll be your dedicated virtual employees and work seamlessly as a part of your team.
If you are looking for a company to outsource, you can pick up the most suitable candidate on Clutch.co and may check their pages on professional networks like LinkedIn. Just look for honesty and some self-respect they don't need to be amazingly qualified or anything. The biggest tip was always whether they were responding thoughtfully and specifically to prompts or just using vague interview language. Let's highlight the most important things:
1. Communication
Build your entire management process around facilitating and expediting communication. If you only use email, you're toast. You need a combination of group/team level tools, one on one tools, and company-wide collaborative tools, and you have to balance this without overloading your staff with bureaucratic processes. We use Trello, Slack, Dialpad, LastPass, Google Docs, among other things. We have team-specific emails (team@, benefits@, info@) and also use customer-specific ones as necessary.
2. Behavioral interview
This is your chance to figure out if they will do well remotely. Look for how they deal with uncertainty, how they handle a lack of instructions, what they do when they disagree with others, etc. We use a proprietary personality assessment, licensed by our business coach. It's terrifyingly accurate. Or more simply look for someone who is always looking for more stuff to do.
3. Skills
There are some specific skills that people who will work remotely need to have. They must be tech-savvy, reasonably fast typers, know when it's best to get on the phone or a video call instead of exchanging a hundred emails, and they have to be organized. Ask what tools they use to keep organized and pry at them. How do they manage their day to day? How do they prioritize tasks? Interviewing for job skills is important but these other questions will help you learn more about how someone is going to approach their day to day.
4. Project Tracking
Features like Time Tracking, Automatic Screenshots, Project Tracking, Activity Tracking. If you want to track the remote team's productivity, it can help. Each day, workers can check-in, and the program tracks their time, automatically completes weekly timesheets, and even snaps random screenshots so you can see if they're truly on task. The pros and cons of a dynamic remote office are that it's like a living and breathing machine: you can't just expect it to run hands-off without proper management.
5. Clear goals
Write clear job descriptions. Pay them to do a small (fake) project before you hire. Find people you genuinely enjoy spending time with because you're going to be on the phone with them all the time. Set clear goals. Have a list of tasks that people can pick work up from, on Jira or Trello – it's more efficient than constantly having to ask what you need to work on.
6. Overcommunicate
Define core hours – like 10 am – 3 pm. Have a regular time to talk. Video chat is the best but use the phone or text chat. Know what's going on in their lives – spouses, kids, health, etc. Don't be invasive but show you care and want them to feel like they can share. Meet in person at least once per year. Be explicitly available. It's different than being online. When you're co-located, it's easy to tell when it's ok to "disturb" someone or talk to them – you see what they're doing. When you're remote, you don't know anything better than perhaps a little green icon in your communication tool. Most people in this situation will assume that you're busy and will avoid talking to you/others unless they absolutely have to. They may wait until your next scheduled meeting, or worse, just try to fill in the blanks themselves. You'll have to set a norm that "available" is the default state, and then keep reinforcing it.
Never hire people who are instantly resistant to feedback, someone who extremely talented but didn't require much oversight, the smallest thing would make them so defensive that it made things very adversarial and uncomfortable.
There are two primary types of outsourcing studios tho, with various pros and cons: Large overseas software factories, usually in India, but sometimes in Russia or Asia. Pros: Cheap. Can get lucky and deliver what you want, if you have a very detailed spec of what you are looking for. Cons: May not be able to iterate on ideas, polish the core loop to make moments delightful, or really "get" how your game should feel. Art may be bizarro. Quality may be off with mysterious and elusive bugs and not run on all devices you expect. May start off with a strong team that slowly falls off and gets shifted to way-junior artists and coders. Most likely will take much longer than you expect.
Boutique development agencies. Usually in a big name city and with some big-brand, big-media clients in their portfolios. Pros: Bleeding edge insight on the latest and greatest art styles, UI and UX design, and monetization and marketing techniques. The team is usually comprised of true professionals. Cons: Expensive as all get-up. And may create products with more style than substance.
No matter how skilled, creative, professional, and competent the outsourced team is, you are the one who knows your business and goals best. Even if you do not plan to take over any of the project roles, be ready to invest time and effort into sharing your vision with the development team, conveying your goals and expectations. Your commitment can have tangible effects on the final product. I'm sure there's a very valid and sensible reason to define the set of roles and responsibilities your project requires, those will depend primarily on the goals you need to achieve and specifics of the tasks, which need to be done. Efficient project roles and responsibilities distribution between you, and development team members is one of the key success factors for a sustainable distributed development process. A clear business agreement is crucial to successful outsourcing. Contracts must reflect what was agreed on during the negotiations — specify the scope of the project and focus on the business outcomes that both sides want to achieve.