Chess is not just a game. In addition to all its diverse qualities and features, chess is an educational tool that can enhance cognitive skills and critical thinking, tactics and strategy.
In the article, we explore the ways how to study chess by playing digital games both serious classic chess, more cartoon kids-focused games, or even web3 metaverse-like chess apps. Fgfactory has showcased its expertise in creating various chess games that not only entertain but also educate. By incorporating gamification techniques the team has successfully created different chess games that engage players of all ages in learning and developing their chess skills.
By incorporating game elements such as challenges, rewards, and leaderboards, these educational games make the learning process more engaging and enjoyable. This approach is particularly beneficial when it comes to teaching chess, as it can be a complex and intimidating game for beginners. For those looking to study chess in a more structured and comprehensive manner, chess game apps provide an excellent resource. These apps offer tutorials, puzzles, and practice modes that allow players to learn chess app at their own pace and improve their skills over time. Whether you are a beginner or an advanced player, these chess apps provide a platform for continuous learning and growth.
In general, chess games are divided into several types and are oriented toward different players. Some are more serious and focused on the classic game, have 2D or 3D graphics, and have an average audience of teenagers and adults. Other chess for beginners apps are more playful, designed for a younger audience using the game component, and made in a more active and entertaining way. However, they also contain a learning element, the possibility of practice and competition with other users. Also, there are casual and other games containing chess mechanics. Such games allow users to play their favorite mechanics and gain additional chess skills at the same time.
Let's take a deeper look at each of the types of chess games separately and analyze their features.
Serious Chess Games for Adults
Our team has gained extensive experience in designing high-quality chess apps and games specifically crafted for adult players. These games are designed to encourage players to think several moves ahead, analyzing potential outcomes and weighing their options before making a move. By honing the art of strategic thinking, players not only improve their chess skills but also develop valuable problem-solving abilities that can be applied in various aspects of life.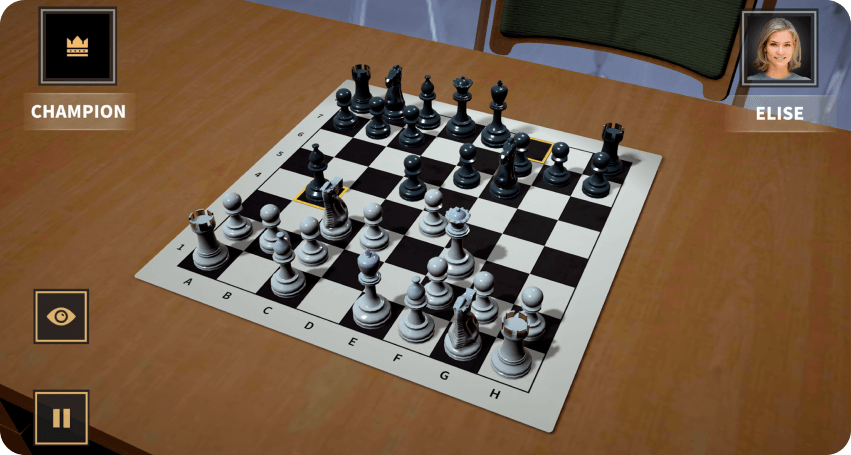 Design-wise, these chess games also prioritize offering a visually appealing and user-friendly interface. The games are designed to be intuitive and easy to navigate, making them accessible to players of all skill levels.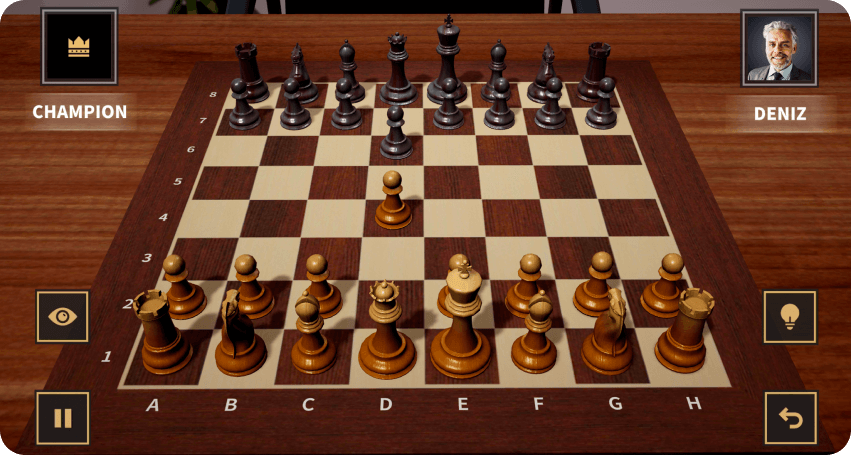 The main emphasis of such games is the maximum simulation of real chess, where users can explore how to study chess playing both against other players or against bots. In our past case, we developed 3D classic chess in which the user can play in various environments, for example, in a library, hall, classroom, and other locations convenient for chess.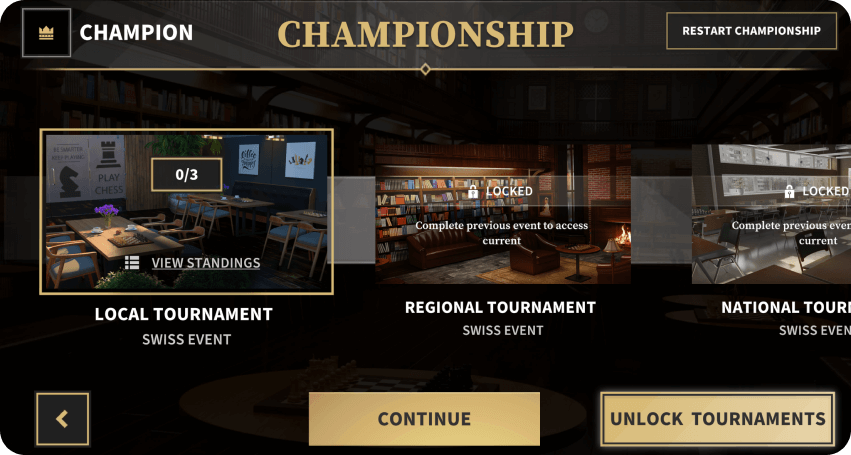 Due to the variety of functionality, users have the opportunity to play on their own, play against other opponents or friends, and also participate in various in-game tournaments. Tournaments are a separate gamified mechanic in any game, and chess is no exception.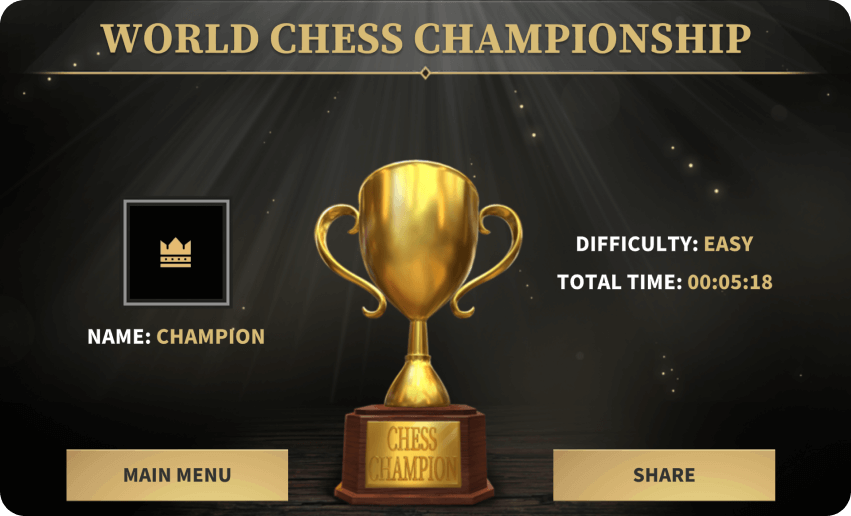 Thanks to tournaments, users have the opportunity to compete with stronger opponents, climb the leaderboard, win prizes, and receive various prizes. These features increase the competitive interest of players, motivate them to return to the game, and continue their gaming experience.
Cartoon Chess Games for Younger Players
Another type of chess game is a cartoon-style chess game that is specifically catered towards younger chess enthusiasts, kids, and those who learn chess from scratch.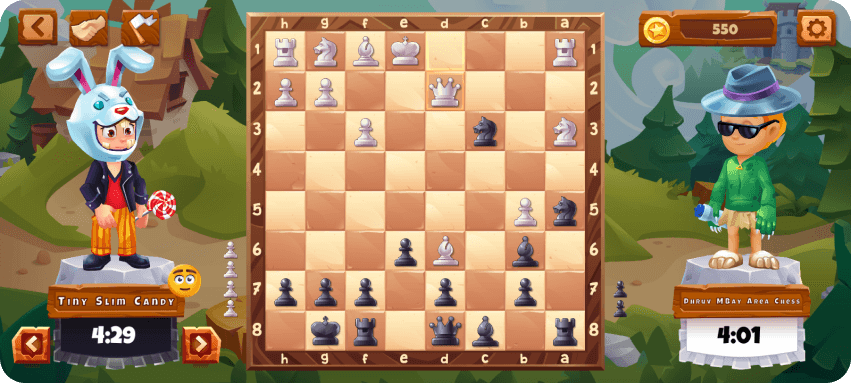 These games are not only visually appealing with their engaging campaigns, lovable characters, and captivating storylines, but they also serve as a fantastic tool for learning chess. By experiencing fun gameplay elements, completing levels, defeating bosses, unlocking new challenges, upgrading and customizing your in-game character, and gradual progression, players are much more motivated to continue playing, progressing in the game, and improving their chess skills simultaneously.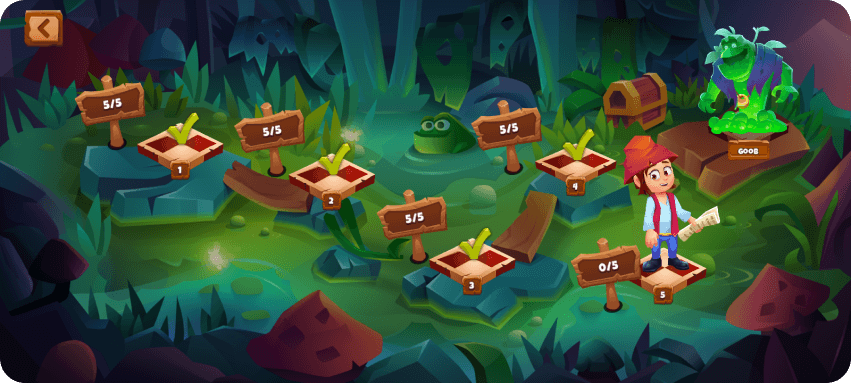 A distinctive feature of such games is a smooth immersion in the specifics of the game that allows learning chess from scratch. A specially designed system of tasks and puzzles allows you to gradually increase the complexity of the game, and add new conditions and situations where the player may find himself. This system is integrated into the gameplay in the shape of levels, passing in which players receive prizes, new content, and new features. In this way, the chess learning system gradually deepens users into the game and at the same time rewards them for continuing to interact with the game.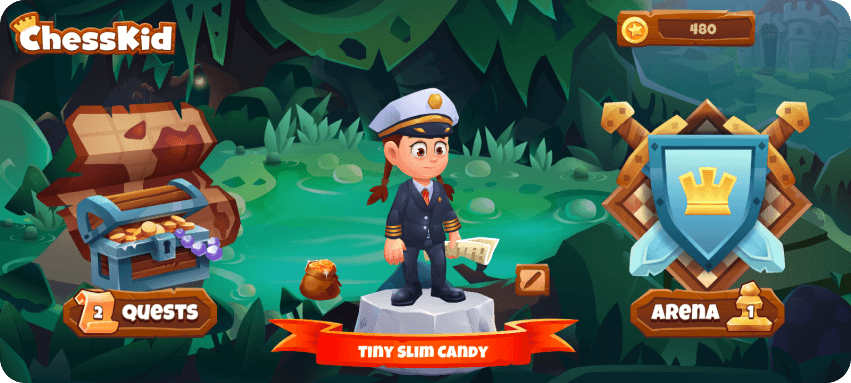 For those looking for an app to learn chess, these games provide a valuable option. Instead of traditional methods of studying chess, such as reading books or attending lessons, these games offer a more interactive and engaging way to learn. The incorporation of cartoon-style graphics and characters adds an element of excitement and entertainment, making the learning experience more enjoyable for younger players.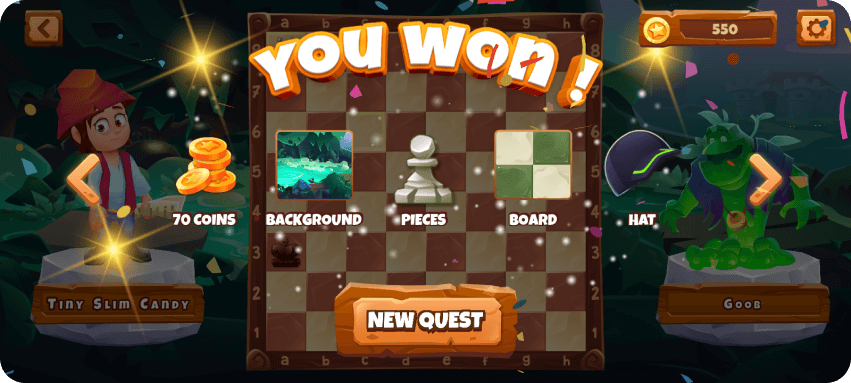 Such games, in addition to chess mechanics, contain additional game mechanics that are well-known and understandable to young players. Because players can immerse themselves in the game world, explore, discover new things, and achieve results in the game, they are increasingly immersed in the educational component as well, developing their chess skills and, overall, learn how to play chess in an app.
Chess-like Casual Games
Another type of chess game is a chess-like casual game that offers a fresh and inventive approach to traditional chess gameplay.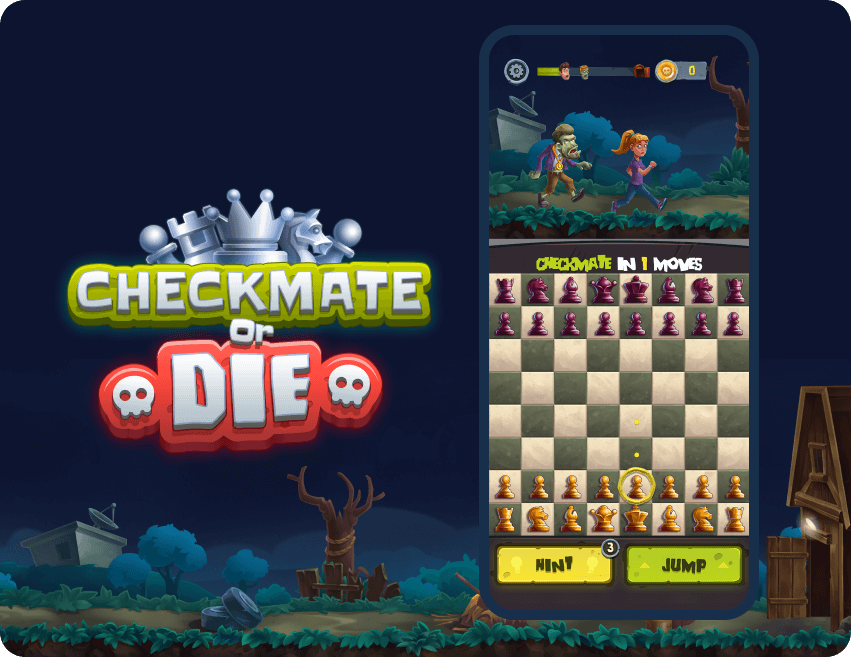 Whether it's evading zombies or navigating intricate mazes, these unconventional elements add a layer of excitement and thrill to the puzzle-solving experience. This innovative take on chess casual opens up new possibilities for players of all skill levels, making the game more accessible and engaging for a wider audience. Traditional chess puzzles can be hard and boring for beginners or those who are not familiar with the game. However, by incorporating elements from other genres, we make chess learning apps more approachable and appealing to a broader range of players. This not only helps to expand the chess community but also encourages more people to explore the game and improve their skills.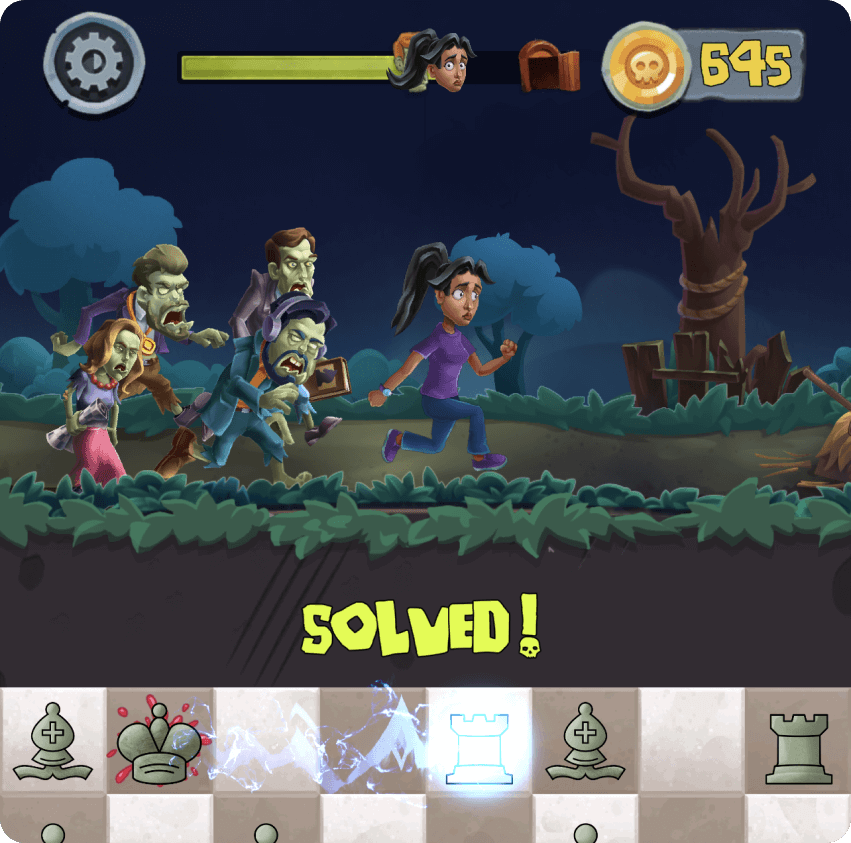 In fact, a learning element can be built into almost any game mechanic, and chess mechanics in particular. Like turnover. Almost any casual game element can be built into a chess game app to make the game more fun for younger audiences or beginners.
In our case, we integrated chess mechanics into a casual game. The objectives were to keep the fun and dynamics of the casual game while introducing an educational component.
Web3 Chess and Metaverses
One of the newest types of chess games are web3 chess games and chess metaverses, which combine blockchain and metaverse components on the one hand, and chess mechanics, gaming and competitive mechanics on the other.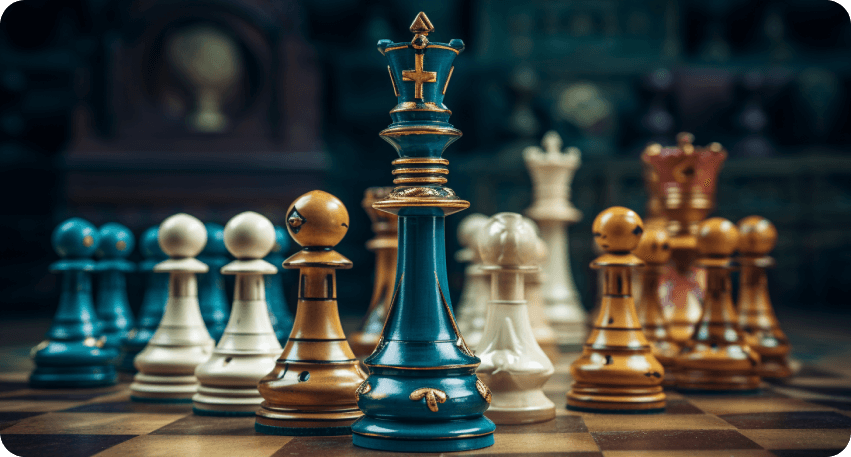 Among the well-known projects that are in development or already released are Immortal Game, CanVerse, Checkmate Live and others.
The major features of such ecosystems are the internal economy, customization focused on NFT assets that are distributed through the marketplace that each ecosystem has, and the gaming component. The advantage of such gaming ecosystems over classic games is the presence of an internal economy that operates on the basis of some kind of blockchain. This allows you to create value for in-game assets that players receive, earn, win or buy.
However, in the long term, the viability of such platforms has not yet been tested and it is difficult to predict the stability of such economies in the future.
Conclusion
In the area of educational chess games, gamification has proven to be a significant factor in enhancing the learning experience. Fgfactory, with its expertise in creating engaging and effective chess experiences, understands the importance of incorporating gamification elements into chess games. These games are developed to not only provide a platform for chess study but also to engage players in a way that fosters continuous learning and cultivates their chess skills.
With the increasing popularity of chess apps, games, and online platforms, Fgfactory offers a unique approach to developing such games. The gamification elements incorporated into the app make the learning process more interactive and engaging. Players are encouraged to actively participate in their own learning journey, fostering continuous growth and development of their chess skills.
One of the key advantages of using gamification in educational chess games is that it allows for personalized learning experiences. The app can adapt to the player's level of expertise and provide challenges and lessons that are tailored to their specific needs. This ensures that players can progress at their own pace and focus on areas where they need improvement.
Overall, the integration of gamification elements in chess games and apps, such as the examples provided above, offers a unique and effective approach to learning chess for beginners. By making the process engaging, interactive, and enjoyable, these games not only cultivate players' chess skills but also foster continuous learning and personal development.